Introducing the only small hydraulic press you will need to press your own herbs, wine, or cheese.
---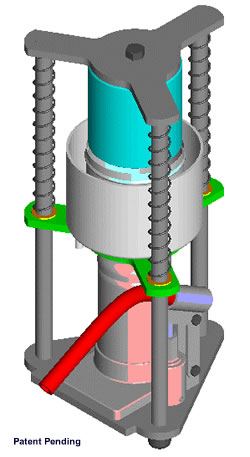 This press originally designed just for pressing herbs was developed by Rob Nelson, Design Engineer for TBRS Technologies, a seafood processing company. A friend and Herbalist came to Rob for the perfect small press, and this might just be it!
Food grade plastic mandrel and spacer and the rest is all polished stainless steel.
Stable 3 point design with high load polyurethane feet
Takes up a mere 1- sq ft of counter space.
Remove jack and place in dishwasher weighs less than 20 lbs. sans jack
6-ton press capacity
Comes with Cup, Screen and two types of dispensing hose
Top plate is now 3/8ths thick solid 304 Stainless steel and redesigned for strength
Our latest redesigned version is the best yet.
Our company is located in the beautiful Sequim-Dungeness Valley, a large producer of lavender and other herbs. This press is recommended by the Southwest School Of Botanical Medicine.
Drawing shown is slightly different than actual product to protect our product from duplication ( the real thing looks even better...)
Read one of our testimonials:
"Hi Rob
It's about time I report back about the performance of that beautiful press.  It works as good as it looks: like a dream.  I am really happy with this press !!!!  One of these days it might even go into the field. Thanks again for the wonderful piece of equipment.
Best
Heidi S., in Maine," 
---
Are you an Herbal Entrepreneur? 
Trilogy Herb Press is for sale: inventory, designs, and website. Contact us . 
Own a business with excellent growth potential and a proven track record.
---
This press is currently sold out.
Contact us to notify you when we have produced more of them.
Look for us to ship our 7th generation machine in August 2010.
Contact us . 
Phone 360-582-3084
Riverside Technical Design
425 E. Washington St., Suite 8,Sequim WA. 98382
Email: rdnelson@olypen.com