Knyvett family
Sir John Knyvet or Knivett (d:1381) was an English lawyer and administrator. He was Chief Justice of the King's Bench from 1365 to 1372, and Lord Chancellor of England from 1372 to 1377. Knyvett was eldest son of Richard Knyvet of Southwick, Northamptonshire, and a keeper of the "Forest of Clyve" (now part of Rockingham Forest). His mother was Joanna, a daughter and the heiress of Sir John Wurth. He married Eleanor, daughter of Ralph, Lord Basset of Weldon, and they had four sons and a daughter. He owned and improved Southwick Manor, which he inherited from his father; the house still survives today.
Knyvet was practicing in the courts as early as 1347; in 1357 he was called to the degree of Serjeant-at-law, and in 1361 was appointed a justice of the Court of Common Pleas. In 1365 he was raised to the office of Chief Justice of the King's bench. In the Parliament of 1362 he served as a "trier of petitions" for Aquitaine and other lands over sea, and afterwards in each Parliament down to 1380, except while he was Chancellor, as a trier of petitions for England, Scotland, Wales, and Ireland. ... more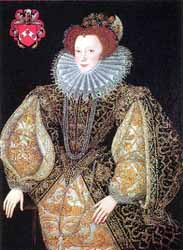 Katherine Knyvett, wife of Sir Thomas Howard.
A1 ~ Otomar Knevet, lvd:1050;

B1 ~ Alfred Knevet, m. Emma Dammartin;

C1 ~ Edmund Knevet, m. Annabell Furnivall;

D1 ~ Drugo Knevet, m. Florentina Staner;

E1 ~ Manfred Knevet, m. Isabel Stanhope;

F1 ~ Mansel Knevet, m. Amy de Sleswon;

G1 ~ John Knevet, lvd:1205/1214, m. Juetta Knevet;

H1 ~ Thomas Knyvett, d:1264, m. Millicent Benford;

I1 ~ John Knyvett, m. Mabel Horton;

J1 ~ John Knyvett, m. Joan d'Engayne;

K1 ~ Richard Knyvett, lvd:1303, m. Joanna Wurth;
<=======

L1 ~ Sir John Knyvett, Lord Chancellor of England, lvd:1366/1381, m. Eleanor Basset; ==> Basset family

M1 ~ John Knyvett, lvd:1358/1413, m. Joan de Bottetourte;

N1 ~ Margaret Knyvett, m. Sir Thomas Echingham; <== Echingham family
N2 ~ Sir John Knyvett, d:1445, m. Elisabeth Clifton; ==> Howard family

O1 ~ Sir William Knyvett of Buckenham, lvd:1440/1515, m. Alice Grey; ==> Grey family

P1 ~ Sir Edmund Knyvett of Hilborough, d:1503, m. Eleanor Tyrrel; ==> Tyrrell family

Q1 ~ Anne Knyvett, m. Sir George St. Leger; <== St. Leger family
Q2 ~ Sir Thomas Knyvett, m. Muriel Howard;

R1 ~ Sir Henry Knyvett, m. Anne Pickering;

S1 ~ Sir Henry Knyvett, m. Elizabeth Stumpe;

T1 ~ Katherine Knyvett, d:1633, m. Sir Thomas Howard;